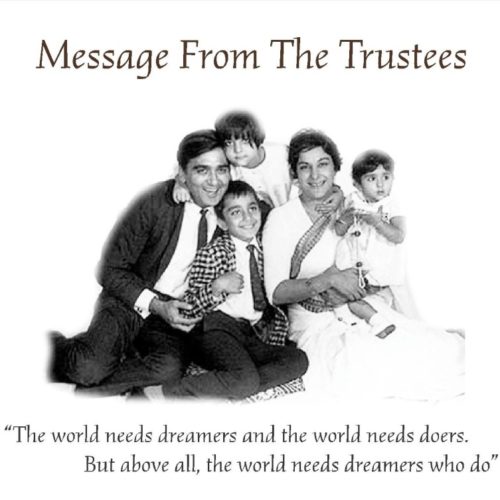 The Nargis Dutt Foundation is an ongoing journey by three children to fulfill a mother's last wish and a father's relentless pursuit to fulfill that wish. All through our growing years we have seen our parents working tirelessly towards the enrichment of the lives of the poor and less fortunate. It was therefore tough not to imbibe the same virtues. The passion and commitment with which they worked has motivated us to carry it forward. It was our parents wish to help the needy in India and as a part of their legacy we have taken several extra steps to keep this dream alive.
The Nargis Dutt Foundation has come a long way since its first chapter in New York in 1981 and has today spread across several countries. Although promoting cancer healthcare remains our core value, we have also diversified into supporting many causes in Education and Women Empowerment.
Through our website, you will get a glimpse into all the activities that the Nargis Dutt Foundation embraces. We encourage you to take the time to understand the impact of each activity on an individual in particular and on the community as a whole. Do join us in our endeavor to make this world a brighter place for many.
Our Trustees
Sanjay Dutt
Namrata Kumar
Priya Dutt
Ali Asgar Sadequian
Arjunsinh Derola
Nikita Padora